Automatically create correspondence

For the fastest defects management.
Digital transformation means more than just a one-time change. In fact, behind the concept, there is an ongoing process of change. Start your change to greater productivity with no risk using mydocma MM.
Despite apps and all of the digitisation, do you want to continue supplying the same quality of correspondence to your customers and business partners? The only question your business partners are going to ask themselves whenever they receive your messages is: How did they manage to do that so quickly?
You determine the frequency. From snail-mail using registered post to fully automatic data synchronization – no manual steps involved.
What type of correspondence are we talking about?

Everything you need, basically!
Automatically create form letters for multiple defects.
Complaints under the VOB / BGB
Grace period under the VOB
Acceptance reports
Open points lists
Threat of replacement
All further letters
Any further letters required for your defects management process can be configured and made downloadable for your team.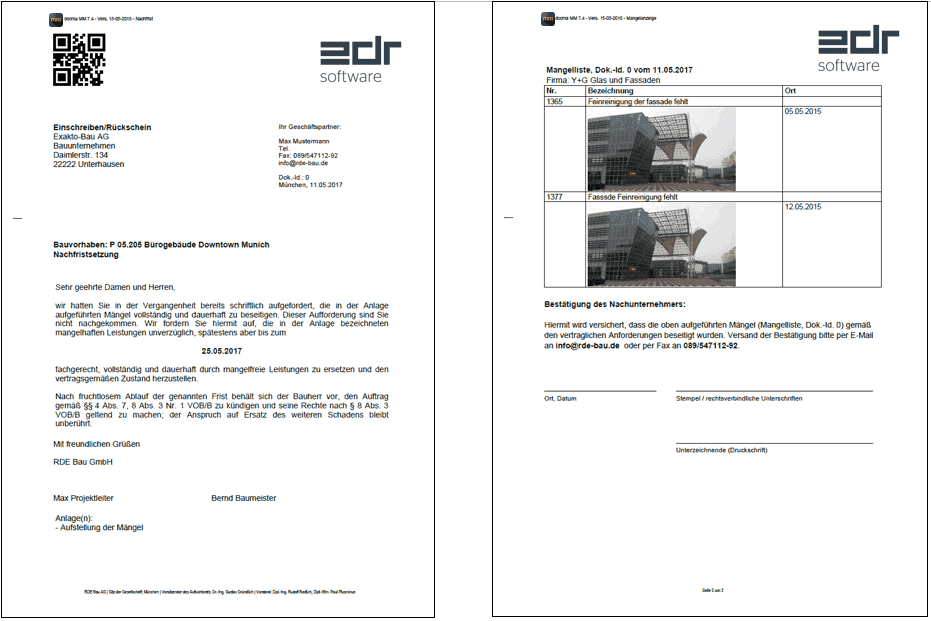 Perfect correspondence

with a high level of automation
With mydocma MM you can generate form letters in perfect quality. Exactly according to your CI. But, at the time of creating the letter, mydocma MM will take additional steps without any input needed from you:
Change of status, e.g. from recorded to displayed
Change of due date
Entry into processing history
Attachment of a pdf-document to the relevant defects
Movement of defects into the next workflow step
Transfer of letter to a document management system
From the image to the plan section.

All important information is included
mydocma MM adds all the important information to your defects letter:
Multiple images for each defect
Location within the project structure
Recipient data
Where required, the addresses of tenants or owners
Map Extract
Descriptive texts
From noting the defect on the go to writing a perfect letter. Including images and a plan location.
In under five minutes! As demonstrated live by our sales team!