The leading defect management

Company-wide. Transparent. Mobile.
Defect management in construction projects means more than just listing open points in Excel or a project space. To ensure efficient tracking of defects, it is crucial that construction processes are mapped exactly and project participants integrated.
Our software solution covers all phases of defect management and ensures a sustainable improvement in quality by way of standardisations: from mobile recording of defects, to the creation of defect notifications in accordance with VOB (German Construction Contract Procedures) to the rapid notification of repaired construction damage via QR code/link and inspection during acceptance.
With mydocma MM, you lay the foundation for perfect documentation in the warranty process and you are taking the first step towards implementing strategic construction defects management.
Why is good defects management so important?
Often, construction projects are complex, because they feature:
A large number of stakeholders: e.g. the executing company, the general contractor, the construction supervision, the certifying expert and the owner
A large number of interfaces
A large amount of data, such as correspondence, photos, plans and notes!
Under the VOB/B, the customer has a legal entitlement to:
A defect-free edifice
The elimination of defects within a reasonable period of time
A warranty
There is always an element of risk, however, as a result of:
Disruption/failure of the construction process
Failure to meet deadlines
Costs (deductions)
Breakdown of the relationship with the general contractor.
Our recipe for success:

Listening and solving complex problems!
Are you looking for a uniform corporate solution?
But every project is different, right?
This seeming contradiction can be solved, using mydocma MM, our defects management software, in a uniquely flexible configuration:
General Configuration: Company standard for all projects
Project configuration: project-specific definitions directly in the project
Your benefit:
Create corporate standards & obtain individualised control over projects
Tried and tested
Flexible configuration options
Perfect integration/open interfaces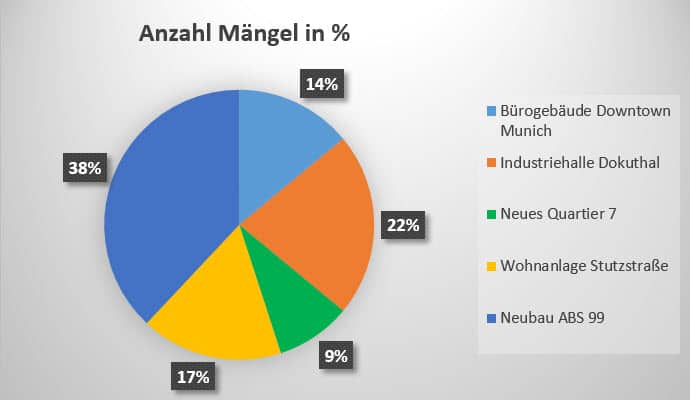 Evaluate across projects

Create powerful construction reports
With our defects management system, you can evaluate all of your projects in no time, e.g. based on the number of apparent defects.
You define the criteria to use for your analysis. No customization by us is needed for this purpose.
Find out more about Analyses
Your benefits with mydocma MM

optimized teamwork
cooperation of general contractors, clients and executing companies on one platform with user rights, easy delegation/tracking of tasks

increased legal certainty
complete documentation, consistent time management, photo evidence, VOB-compliant letters, audit-proof data archiving

more mobility
defects are recorded directly on the construction site; it can also be used offline – automatic data synchronization, no additional work in the office
better quality
transparency in the execution and warranty phase (defect history), homogeneous procedure, reduced error rate due to uniform specifications/mandatory fields & no manual merging, secure monitoring of deadlines

greater economic effiency
improved coordination, streamlined work steps & automation of urgent incidents, significant time and cost savings, considerably less paper consumption, problem-free delegation of tasks in the event of staff shortages

stringent CI/CD strategy
professional appearance towards business partners through company-wide uniform documentation, correspondence with the company's internal design and the use of the latest software technology

strong integration
simple integration into the existing IT landscape, trouble-free connection of external and third-party defect management software solutions, automated interfaces e.g. to ERP, CRM or FM systems, various import and export options, e.g. defect lists, project/room structures, etc.

optimal adaptation
configuration of company standards & project-specific components, individual rights and roles system, user-defined layouts, storable filters, customizable letter templates & changeable input field names
extensive reporting
process improvement via standard templates for statistics-, image- and detailed defect reports; generation of professional evaluation diagrams for various categories, e.g. due defects, processing time, number of defects according to trades, etc.

high flexibility
the various application areas range from civil and building construction, plant construction, infrastructure, fire protection, facility management, etc. & diverse user groups such as construction and general contractors, engineers, architects, project developers, experts, construction supervisors, housing associations, etc.

holistic process chain
includes all steps of defect management: defect recording via app, defect processing, defect notification according to VOB, notification of repaired damage, control during acceptance & statistics for strategic decisions

variety of functions
photo documentation, plan location, e-mail notification, voice input, report designer, memory function, letter generation, collective processing, mailing function, filter-, grouping- and search options, location detection, notification of repaired construction damage via link, traffic light/deadline system, etc.
Defects are not a game. But the digitization of your construction processes is child's play.

Contact us. We will be happy to help.